What happened with Harper Karen?
She is adorable. I did think that she was a little doll when I first seen her. I pray that whatever is going on that she does great.
Watch out Karen, this one is running a close 2nd to your little Sophia!!! Hope your move is going smoothly and that the "moving guys" were able to sustain that Grand Island heat!! Get on line ASAP when you get to Florida… We are gonna miss you for a few days, I guess…
Thanks, Pia! Yep, this heat can be pretty exhausting…yikes! I'll get online as soon as I can once we get set up. This all seems surreal to me; I owe my guys soooo, so much for being willing to do this for me, for making me feel like I'm worth it.
Harper update today:
NG tube is out! She's doing really well!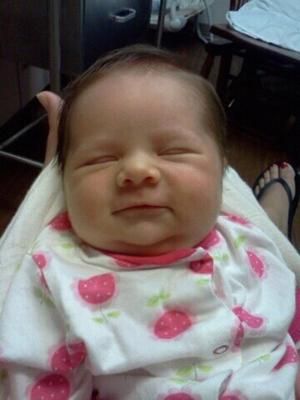 Thank you Jesus! She looks much happier now she looks like she is smiling!!
Her coloring looks much better…phew!!! She's a little princess for sure…keep us updated as soon as your are re-connected to the world. Have a safe transition…Give Sophia a big hug from us!