http://www.allaboutdolls.com/howto.html
This link shows you how to measure the head for a wig. The partial cap wigs are more versitile in the shapes of heads they will fit but the full cap wigs give better head coverage. It is a matter of preference. If you are going for a really babyish look, I suggest the wispy wigs (Kemper's is called Cassidy) and they are partial cap. When in doubt or if the head is between sizes go up a size on partial cap wigs because the hair can always be trimmed and usually needs to be trimmed in the bangs area anyways. I have often gone up a size in partial cap wispy wigs then trimmed them to get better head coverage especially the Moinque synthetic mohair ones with run a little thinner.
The ones I have done were all "dolly" looking and not really babyish looking.
I didn't reborn this one, just put some parts together to remake a doll:
I reborn this one when LDC paints first came out and I was trying them. I was never overly happy with her though because I didn't care for the paints, or the eye color she had. I think the wig I used was a big overwhelming too.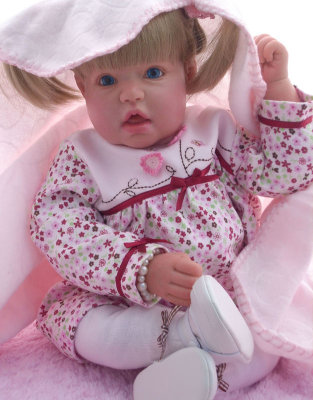 This one goes back to my earlier days before I got better at painting. She is blushed with oil pastels and has a Lollipop wig.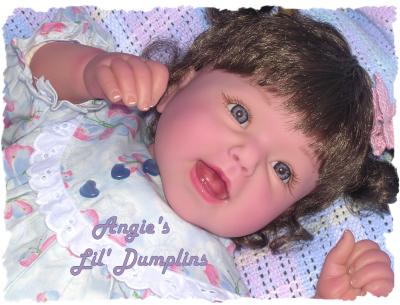 Mandy, I love all your Middletons! I see you are a fan of the sweet lips face! I love that face on the next to last photo too. What face is that?