Not sure I spelled that correct-----but is anybody pre-ordering Genevieve??
Me to Helen, but I have Scarlette by B Brown on preorder right now, so I don't know yet for sure!
I had three on pre-order recently. It drove me crazy trying to hold onto the money to pay them off. That's why I'm hesitating on Genevieve.
I get it and also ROSE is looming!!
I had taken my dolly dollars down to very little, but now with Ronja sold things are back up. I'd like to sell one more before I start spending again.
Totally understand-----Hey, BTW where's Niki???
She comes…she goes… I haven't heard from her. I guess she's busy elsewhere. I miss her sense of humor when she's not on here.
PM her. She usually responds to that. You could try @Nikkiroc too! Oops! I just did.
Hey Nikki, are your ears burning? Lynn and I are talking about ya!
I love this sculpt. Very tempted!
I got her to sell, but I'll pass on Josephine she looks too much like sailor and twin A/B to me just a lot of copy and paste there… Blue bell doesn't make me love her either and I am on the fence about Monroe but I MUST have Evelyn!!! One for me and one to sell. I can't believe Cassie is releasing 6 sculpts this year… Don't think that was a smart move but not my business
I think she is cute but am not at the point of preordering any kits yet.


But here is a link in case other people dont know who she is.

She is the first out of the twins. Her twin will be Josephine.
https://www.truborns.com/collections/pre-order-kits/products/genevieve-by-cassie-brace
(Genevieve has her mouth closed / Josephine has her mouth open)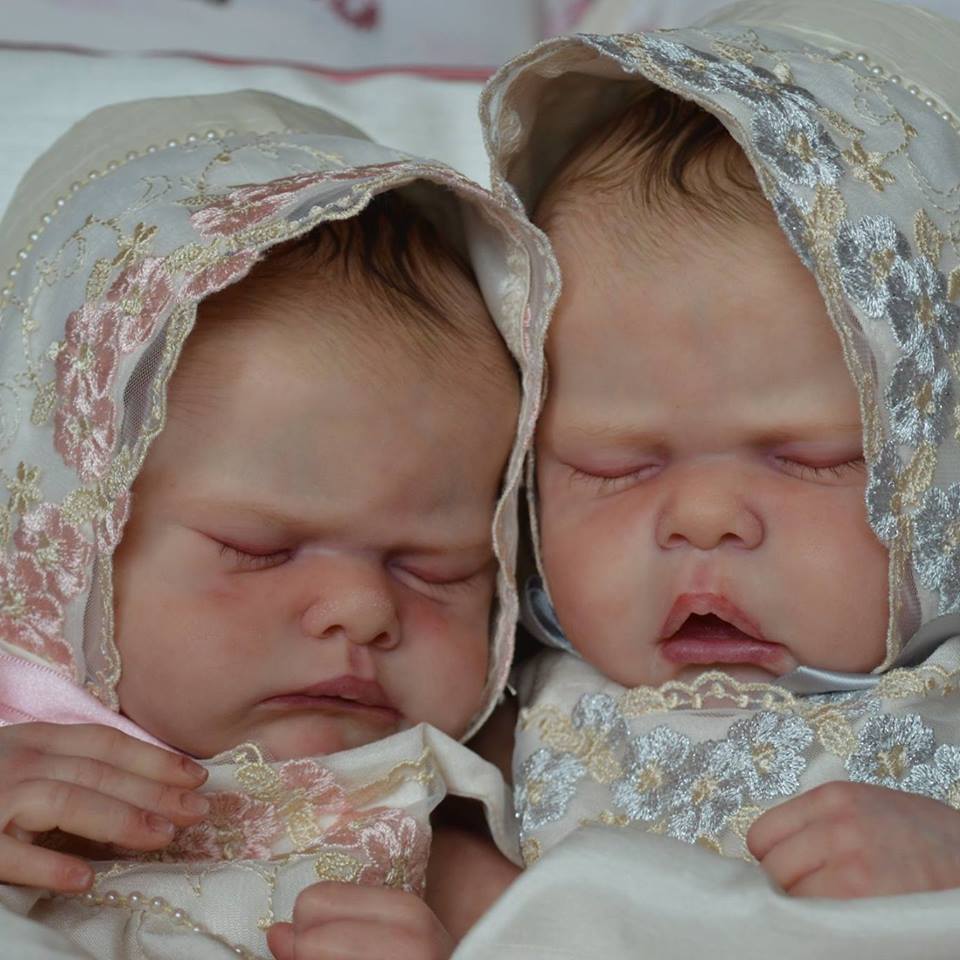 I'm passing on these twins. Got my eye on others.
Awww she is so sweet! I just think the market is way too saturated right now.
I think if I ever get good enough I will head the silicone route instead of making vinyl kits…there's just too many!!!
I'm with ABHoriginals about her others due to be released this year. Monroe and Evelyn look adorable. It will depend on their size, though. Plus, Bonnie's Levi is looking pretty cute. I prefer the sleepers since I hate to fight with eyes.
Its taking all of my strength not to preorder Gen, she is cute but I have Scarlett on pre order (when do we get invoiced for her?) And I am holding out for Abbie and Miya by AK Kitagawa and of course I need Twins A and B. And I still need to buy the Baby FX paints (next month, hurry up please!!!)