I have been doing it for about 9 mos now.
I use GHSP mixed with odorless thinner…very thin…and a brush with just a few bristles…but they are long bristles!!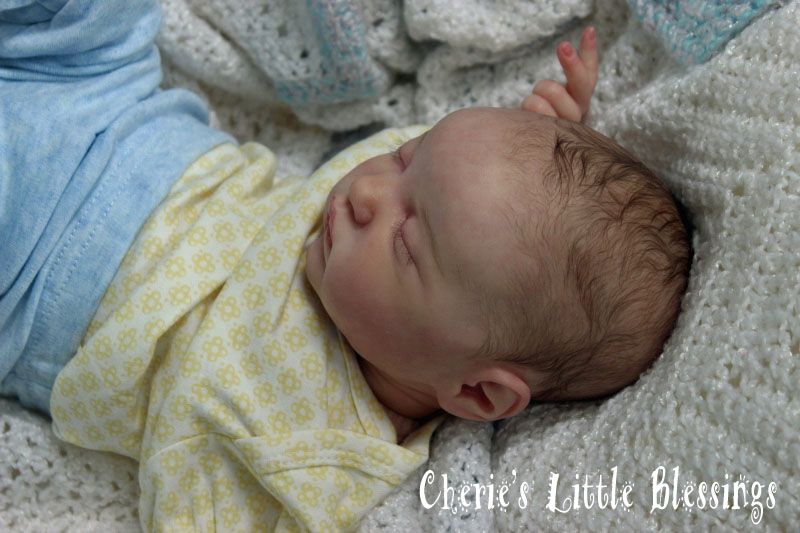 AMAZING! WOW! Had to look about 3 times to be sure it wasn't rooted!
nope it's painted!! Probably took as long or longer than rooting though!!! I am NOT a fast painter!!!
Oh, I totally believe you! LOL! I just couldn't believe my eyes…that is one AMAZING head of HAIR!!!
That is beautiful hair I also had to look twice and enlarge the picture to be sure. I have my work cut out for sure to get that good!
I am new to reborning but here are the last 3 prisma hair I have done.
Blondish… (Lexi)

Light Brown (Liam - Lillian)

Another brownish one… (Jacelyn)

Wow everyone does so good with there own method! Do you have to bake the head between each layer or just be sure it has dried good!
Cherie, yours is amazing!! You need to make a you tube of what you do because i am blown away
I agree @krystalline, @cherielynn09 you should do a tutorial, you do such awesome work on all your babies! This is just the topping on the cake!!!
LOVE the baby blonde! I'm trying to do blonde these days and find it harder than it looks.
Yes it is very hard. And her head baked way too hot (kid turned it up without me noticing!) So there are some orange tones to it.
It is my least favorite so far. Gonna have to try it again some day
lol
Well it looks good from here
You do beautiful painted hair. That's the kind of hair I prefer…fine lines, wisps looking blowsy and crossing over each other… great flow. Beautiful. I wish I could control paint. I have to use pencils because my hands are just not quite steady enough anymore… but I might try again. If I could get hair that looks like your, I'd never root again.
Found this amazing work again and still just as amazed as I was 3 years ago!
I wonder if there would be a tutorial?
I want you to give a class I want to learn this.
May I ask a question, the last pic of the baby with black hair, thats prisma? Black stays black after baking?