Here is my latest baby. I love her lots! Thanks for peeking.
http://cgi.ebay.com/ws/eBayISAPI.dll?Vi … 0580787106HUGS,
Sara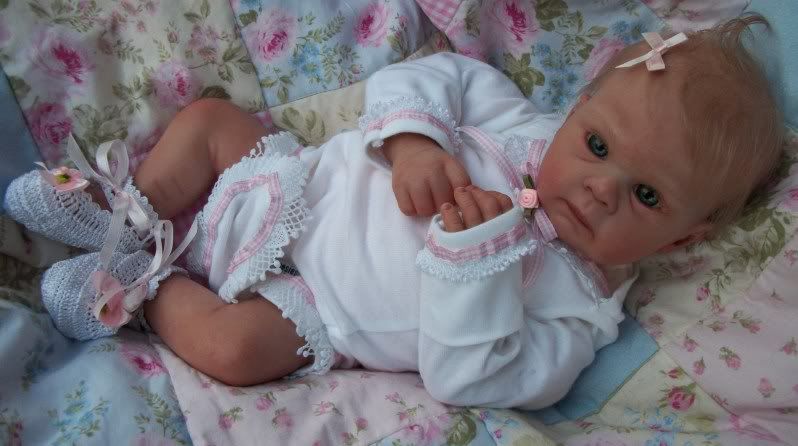 She is precious, love her hair,iam sure she will be hard to part with
connie
Thanks so much! Glad you like her!
HUGS,
Sara
wow she is adoreable, fantastic job as always Sara…IMO she is the best I have seen…
Well if you don't have any luck on ebay it's because ebay stinks!
And she really needs to come here and live with my two boys,
who are both Yarie babies and both blonde! lol
See, she really needs to come live here!!!
Pam
— Begin quote from "Handy Denise"
wow she is adoreable, fantastic job as always Sara…IMO she is the best I have seen…
— End quote
Ditto that!!!
She is beautiful Sara! Makes me want to do mine now. She is so realistic looking as well, love the blonde hair with blue eyes you've given her…good job!
She is SOOOOOO Cute!!! Can I ask where you got that kit from ???
Gina J
Congratulations Sara, what a sale on your "Welcome Back Taylor", bet your doing the happy dance.
I'm so happy to see someone get what they deserve for these reborns, and your little one was a winner for sure!
You girls are the best in the world! I loves ya all! Thanks so much. Yes, I was very happy and her mommy loves her. Gina J, I got the kit direct from Tamie Yarie on her website. Someone may have the address? I can't find it on my bookmarks.
HUGS,
Sara