Sorry i can't help but just wanted to say she sure is beautiful
connie
I am seeing a beranger like rosebud mabe???
Yeah -
Isn't she so sweet - her mother and I have not been able to find a match for her. My husband says she is too beautiful. But I know if there is a match out there, you gals are gonna find it.
Judy
Well she is so beautiful if there isnt a sculpt then mabe someone will do a scupt of her likeness!!!
Thank you ladies, I will suggest those 2 to her. KEEP 'M COMMIN !!
jUDY
OMG! My first thought is that she looks just like this Berenguer if you set the eyes at an angle. I don't know if you can still find this one or not but she is a 17" la Newborn and makes a 19" baby.
NOW, before you look at this photo and die laughing, keep in mind that this is one of the first few babies I reborn back when all I knew to do was wig them, blush them and change out the eyes and body. It is a fru fru dolly for sure but my sister in law still loves her!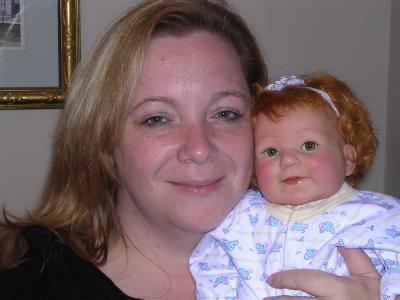 Awwww! What an Angel! My first thought was a Didy Jacobsen baby…
Now that I've seen the pic of the Berenguer posted above, I'd say it could be a good match too.
Thank you Angie and BabiesEverAfter. I DID suggest those two to her. I guess she is really looking to get almost exact (we all know that is not going to happen), but she DID choose a Berenguer for her son (Samuel) who is Rachel's twin.
I think I am going to re-group some of the ones I sent her and re-send. Maybe she will see something she didn't see the first time around.
In the meantime - I appreciate any other suggestions. You gals are the best, you know!!!
Judy
When I first saw her sweet face that Berenguer that Angie showed
was the first thing that came to mind I think that would be a great
match.
You are absolutely right, she is gorgeous. I have found some that might help. The first one is Emma by Adrie Stoete. This is a brand new one. She even has the dimples.
This one is Lillian by Antonio Juan. I hope Neverland Nursery forgives me for borrowing their beautiful pic:
And lastly, this is a beautiful kit by Adrie Stoete called Melody. She is gorgeous.
Tell me what you think…
Hugs,
Joanie
I also thought of Marley Marie the minute I opened this topic. I think she would be a perfect match.
MariRosette and Magsbk -
Who sculpted Marley Marie???
Judy
I think that Melody Stoete is a good match. My first thought was a Berenguer, but Melody is very pretty and so is this little baby.
oooooohhhhh - I like her. who is she??
Judy