I have a set of Secrist Chocolate Brown eyes. They are really dark. They are $3.90 plus shipping.
Gina
I think they look real. they are Real Eyes brand. The only thing about them is that the whites of the eye is really white.
I used those eyes in this doll.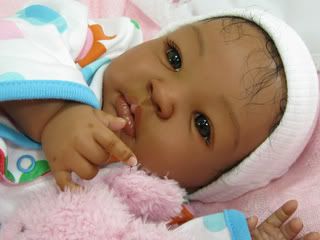 Ahhhh custom orders… gotta love them. I did a set of twins once and in her first email she told me medium skin tone, then once they were finished she said she wanted light skin tone. I sent her a copy of her original email and said that I went by what I had been told.