Each day I have been putting ONE of our closeout kits on sale at 75% off, and each day that one kit gets sold out.
This morning I put our discontinued Spice on sale, and it sold out within minutes. So I changed it to discontinued Holly, and I am sure Holly will likewise sell out. Here is Holly, at only $14.99!:
Holly (22" Reborn Doll Kit)
Was $59.95 Now $14.99
Additionally, the following EIGHT discontinued kits are marked down 70% off!
All of these (as well as kits marked down up to 65% off) can be seen on our home page:
Or, just click any picture to be taken directly to that kit.
These kits are all being discontinued, so get them while you can!
Nevin Pratt, CEO
Realborn® June 3 Year Toddler (36" Reborn Doll Kit)
Was $119.95 Now $35.98
Realborn® Claudia Sleeping (18" Reborn Doll Kit)
Was $69.95 Now $20.98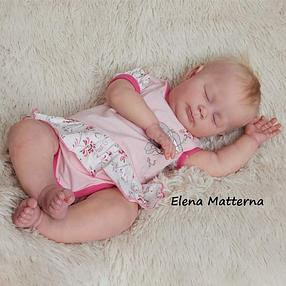 Realborn® Sleepy Sage - 4 Month (23" Reborn Doll Kit)
Was $89.95 Now $26.98
Libby, by Cindy Musgrove (22" Reborn Doll Kit)
Was $59.95 Now $17.99
Raine, by Michelle Fagan (20" Reborn Doll Kit)
Was $59.95 Now $17.99
Michelle, 6 Month Old, by Michelle Fagan (23" Reborn Doll Kit)
Was $79.95 Now $23.98
Cutie, by Donna RuBert (21" Reborn Doll Kit)
Was $59.95 Now $17.98
BIRACIAL Kyra, by Eva Helland (21" Reborn Doll Kit)
Was $59.95 Now $17.98